The History of Bosebuck
Bosebuck Mountain Camps began as a single building, constructed by Roland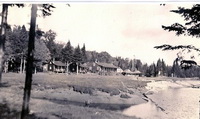 Ripley, son of Percy Ripley, the first caretaker of the Aziscohos Dam.  Shortly after the lake was formed by the dam construction in 1912, he asked for permission to build a camp at the head of the new lake, but the landowners denied his request.  Instead he built on what was then public land known as Lynchtown.  Ownership of this first camp was later transferred to Fawn Littlehale who built a second camp and began the first "sporting camp" operations under the name of "Bosebuck Lodge". In 1918 F. Perley Flint bought a one half interest in the camps and together he and Fawn ran the camp for a year. Perley took sole ownership in 1919 and operated the camp until his death in 1951.  His daughter Marguerite ran the facility until 1964, selling to the Baron family.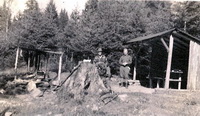 Ownership then passed through several individuals, was incorporated in 1997 and purchased by several stockholders.  Over the years the camp has grown from a single cabin to a main lodge that houses the office, a fully equipped kitchen, a dining room and sitting room.  Twelve guest cabins, a laundry building, a garage as well as staff and owner's cabins now complete the facility. Note: Bosebuck does NOT provide wi-fi access, and there is no cell phone service.
It is our hope to sustain the rustic charm of this historic site but incorporate just a few of the modern conveniences we have all come to rely on while maintaining a delicate balance between the two for many generations to follow.