Deer Hunting
As the name of our dining room indicates, the deer in this region are big but can be elusive.  We have been more fortunate over the past couple of winters than other parts of the state and the herd in this region is healthy and strong.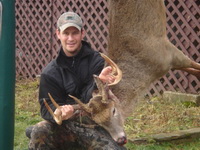 Bosebuck Mountain Camps' hunters have the opportunity to hunt mountainous, vast wooded areas where you have a good chance of not seeing another hunter all week.   Although this terrain would prompt you to be proficient with map and compass or GPS, there are natural borders such as lakes, rivers and roads that will make some hunters more comfortable in these big woods. Our guides will show or direct you to areas of good game movement and help you with any questions you might have about certain areas. We do have access to gated land north of camp, for an even more remote hunting experience.
The weather during the deer hunting season can be anywhere from t-shirts to wool pants and long-johns. There is a good chance of tracking on snow the last two weeks of the season but not always! It is well advised to be prepared for all potential weather conditions.
Although the number of deer per square mile is not great, the hunters that stay with us come for that crack at that large bodied buck we all dream about and sometimes see. We are close enough to New Hampshire to hunt the Pittsburg, NH (with a NH license) area too.
Still hunting and tracking, if conditions are right, are the most often used methods of hunting in this area.  If you are a stand hunter, we can also offer a strategically placed stand at active crossings. If you prefer to carry a muzzle loader when hunting, call and ask about the limited muzzle loader hunt, with no more than 6 hunters for the entire week.
As with our bear hunt, in on Sunday and out on the following Sunday, for a six day hunt.  Weekly package includes lodging, meals and cabin services but does not include Tax, Gratuity or licenses.