Fishing the Streams & Rivers
Famous fishing holes like Little Boy Falls, where President Dwight D. Eisenhower fished in 1955, have remained unchanged for thousands of years. This particular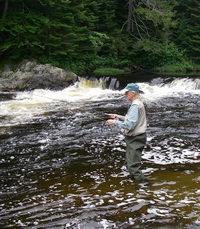 pool is a typical plunge pool setting where large fish will test your skills. Complete with a long deep run, flanked by back eddies on either side, shaded by towering spruces; this pool harbors huge wild fish. The Middle Magalloway is typical pocket water that is created by a one hundred foot drop in elevation starting at the old Black Cat dam site in the outlet of Parmachenee Lake. It then falls down to Aziscohos Lake, and here you will find the fabled Camp Ten Bridge. This all happens in a mile as the raven would fly, but in fact it is more like a mile and six tenths of fast moving water.
Come and join us on a fishing adventure few have the opportunity to experience. It is a place where the every day interactions of nature unfold themselves to you around each bend in the river. Don't be fooled, the fish in the Magalloway River System are wary competitors. A two and half pound brook trout doesn't get to be that large by making mistakes. These fish hatched from eggs here and have learned their lessons well.
Because this is a wild fishery that is dependent upon natural reproduction the small ponds and both the Big and Little Magalloway rivers are fly fishing only. This is only one of the management strategies that have made this water arguably one of the best wild trout fisheries in Maine, if not all of New England. Bosebuck Mountain Camps believes in the catch and release methodology and promotes its practice. But if trout or salmon is what you crave, our cook can prepare any legally taken fish that you bring back to camp.